Sale of unique old and new cellos
in Amsterdam and
Havelte, Drenthe
Also during the Corona virus I think with you.
Villaume model, Mirecourt, Mirecourt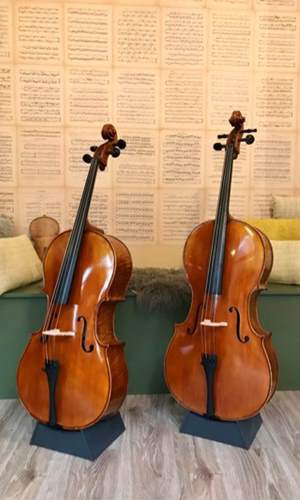 Standard cello set, set value € 1.500,00, for rent for € 30,00 per month.
Are you looking for the most beautiful cello, your cello, with which you will spend many hours in the coming years? Good. Take yourself seriously. So do I. Let's go to your cello! I'm Scarlett Doctor, cello teacher and cellist. I have been giving cello lessons for over 20 years and I have been selling beautiful old and new cello's in many sizes for over 10 years. German, French, English, Bohemian, Chinese; beautiful instruments.
South German cello, label Gaffino
7/8e cello, Engels, Craske
Don't you have the ultimate click with your current cello? Doesn't it play nicely, does it make you feel annoyed by a certain string, or the dots in your leg? Do something about it. When you make a appointment to try cello's I know what I'm going to prepare for you, by talking to you.  I will help you. Many teachers refer to me, that recognition is super!  I have the largest selection of old and new 7/8th cello's. These slightly smaller cello's are ideal for not too big cellists or those who start at a later age. I also play on a small whole cello, so really an option for adult cellists.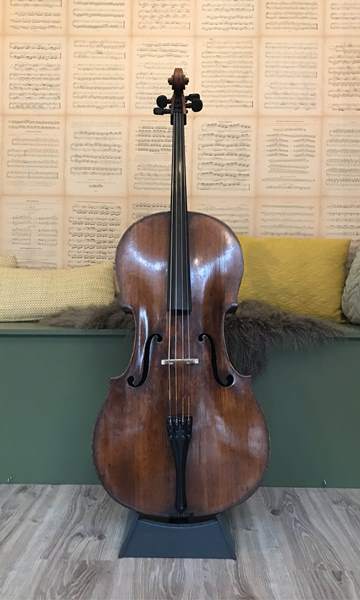 Oude German cello, around 1800
Speel jij uit de boeken van Jakob Sakom? Heel veel docenten werken hiermee; ze zijn gevuld met klassieke duetten en goed opgebouwd met stukken van wel 10 verschillende componisten die allen zelf cellist waren. 
Ik ben een enorm project begonnen; ik heb ze allemaal op video gezet. Zowel de melodielijn als de begeleidende stem, met een professionele filmer en professionele geluidsapparatuur. De editor heeft de bladmuziek onder in de video geplaatst, een tik vooraf gemonteerd en middels het tandwieltje in beeld kun je de muziek langzamer en sneller laten spelen terwijl de toonhoogte gelijk blijft.
"I don't play very well yet, I don't deserve a nicer cello."
Ai! Seize the day now!
Kom cello's proberen bij een cellist en cellodocent
Do you want to try your cello?
Er is bij mij geen 'drempel', ik ben er om je te helpen.
 Je kunt cello's en stokken vergelijken door zelf te spelen en naar mijn spel te luisteren.
 Ik luister en kijk met je mee en als je dat fijn vindt geef ik je mijn mening…
 Ik kan je de instrumenten ook laten horen; zo kun je niet alleen horen hoe ze klinken wanneer je er achter zit maar ook wanneer je het 'publiek' bent.
 Aan de hand van je spel en instrument adviseer ik je in de beste snaren-set voor de cello naar jouw keus. Snaren bepalen niet alleen de klank maar het ene merk snaar speelt makkelijker aan dan de andere. Ik hoor wat jij nodig hebt.
 Ik ben een van de weinigen die zo veel mooie oude betaalbare cello's aanbiedt. Daar investeer ik heel veel tijd en kilometers in.
 Je ruilt bij mij je cello weer in tegen aankoop bedrag opdat je verder kunt groeien. Is er een betere prijs garantie?
Overtuigd? Plan een afspraak!
Come and try cello at a cellist and cello teacher
If you want, I'll trade you the cello you bought from me and you'll grow to be better and prettier again!
Digitale celloles, wekelijks in je mailbox?
Iedere week laad ik clips op YouTube met cello basis technieken die op ieder niveau de moeite waard zijn om nog eens tot je te nemen. Wanneer je je abonneert op mijn VideoBlogPost krijg je automatisch een melding van de wekelijkse nieuwe cellotechniek clips maar ook van de activiteiten welke ik organiseer of zo nu en dan een nieuw product. Hierbij alvast een voorproefje van een paar clips:
Gebruiken van je rechterarm gewicht
Articulatie oefening linkerhand
Ciska: 'I have always done a lot of music, piano and singing. But my great wish was to learn to play the cello. And I started doing that more than two years ago. I put a lot of energy into it. A few months ago I started to run into the limits of my cello. My cello teacher carefully suggested that I shouldn't switch. And then, to my great fortune, I found Scarlett's web site and contacted her. First I told her about my background and motivation by phone and soon made an appointment. I've been to Scarlett twice and tried a total of 6 cellos. And guess what? The very first cello turned out to be the right match, a beautiful Bohemian cello from around 1900. So, Scarlett already figured out what I was looking for during our phone call! <Oh, boy, am I happy with my cello. What a beautiful, warm sound! And everything seems to go easier… You know what? I'm gonna go practice now! Scarlett, thank you so much for your expert advice! Jantine: 'Dear Scarlett, I'd like to thank you very much for your wise counsel. I'm already very happy with the cello. The day after I found it with you, I had to play a class recital in the evening and I immediately did so with my new cello. Because that half day I practiced the piece on this cello, it immediately sounded much more beautiful than on my previous one. It seemed as if this cello played that piece much better. And every day since then, however few there are, this cello is standing next to my bed…. '
For the first time this month I hosted a workshop day with only Christmas music in Christmas atmosphere. The Cello Christmas Extreme. How nice and cozy it was; the house was filled with cellists and guests. Outside the Swedish torches and fire basket were burning;...
read more
Mijn Cello podcast!
Luister naar mijn gesprekken met o.a.Lucia Swarts, Rick Mooney en hoor mijn tips.
Abonneer je nu via deze knop:
Do you want to join one of my workshops? Or are you looking for a special cello? Mail me. I'm also looking for a cello for you. Do you want to sell me a cello? Sometimes I can. Condition is that it is an old cello, at least 90 years old, and in good condition.  
Scarlett