A long time ago I chose to offer Chinese cellos as new build. Unfortunately there is still a misunderstanding among some people that there is only junk coming from China. That is also the case when you don't want to spend money on it. To quote my wise violin maker: 'What you pay is what you get. Did you know that over the last ten years, Chinese builders have regularly won prizes in the biggest competitions for violin and cello making? That was a shock in Europe and America!
For the better Chinese cello (think of price category from € 3.500,00) European wood is shipped to China and there the tops, backs and other parts of the cello are prepared in workshops and shipped back to Europe as clear wood. In a workshop the cello is then assembled, varnished, and made completely playable. After that the cello comes to my violin maker, who prepares the cello for playing, according to my wishes. That's what you call the set-up. He checks the size and position of the pile, checks the keys again to see if they turn smoothly but still tight enough, places the tailpiece and the strings I choose. Then it's ready and I pick it up; a nice cello is a fact.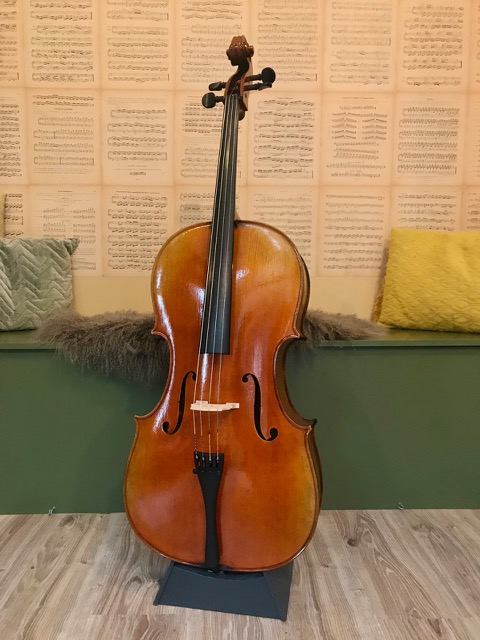 Until recently I sold new cello's up to € 3.595,00 euro. It was very difficult to find a suitable class higher without immediately spending almost € 10.000,00. I had to search for years, but in the end I succeeded. For three years I inquired, asked, tried, failed and went on to the next violin maker. It was important to me that a better category was added, because with me you can grow to a higher class. With old violoncellos I always have to wait and see what comes my way, but with new violoncellos I don't have that problem. I can order them and in the future I can even send them in the colour of the lacquer. That's very nice because we not only want the cello to sound beautiful but also to be visually attractive. And after more than ten years I know what my customers like. Now everyone who bought a cello of € 3,595 or less can move on to this next cello. 
In a studio in Belgium I found this very nice 4/4th cello, which meets my expectations. A sharp good price/quality ratio. Fantastic news was that they could also deliver this model in 7/8th size for me; over a month ago the 7/8th I ordered arrived at my violin maker's and after that at my place. A nice warm sounding cello, just like its big brother, with a nice possibility of tone projection, a friendly volume, not too shrill or loud; perfect! And for those who find that important; there is a label of the Belgian Luthier who made it.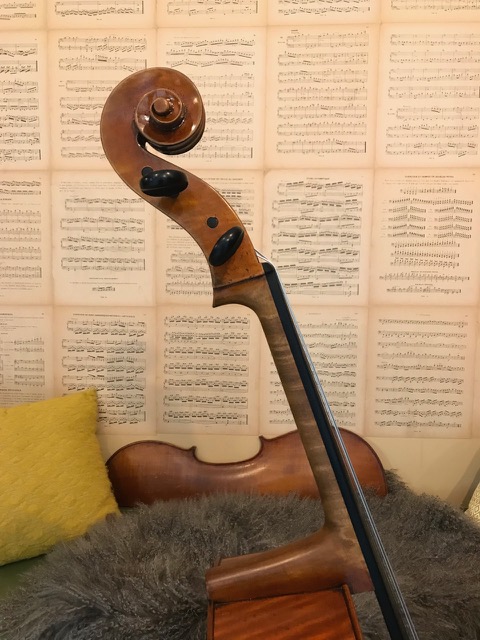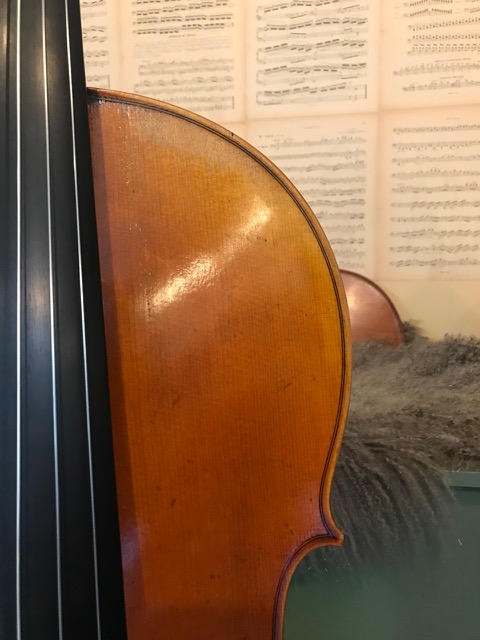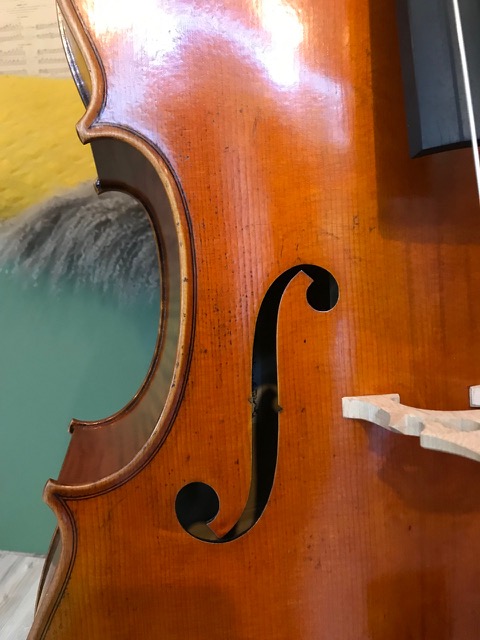 It's a misunderstanding that an adult cellist has to play an entire cello. Pay attention; if you – just like me– started playing the cello later than your childhood, check with me if you should choose a whole cello. I play (always!) on a small whole cello from 1760, so no whole cello. That was him when he was made but now everybody is bigger, the cello's are bigger and I play on a small whole cello. Don't waste any more energy on those two centimetres. Because it's not more than two centimetres difference, but for your left hand fingers it's a huge difference in comfort. The difference between stopping or continuing playing the cello.