Cellists! Good morning! Here's good news for cellists of all levels. Can you see the little green buttons coming into the fruit trees? I first noticed it yesterday… Easter is coming and what could be better than playing corals from the Matthew and John Passion of J.S. Bach together at Easter time?
At my request seven chorales have been arranged for cello quartet and transposed down a bit. Here is an example of one of those chorales. You see: two parts are very playable and in this chorale two cellists can put their teeth in the tenor key. An extra good exercise…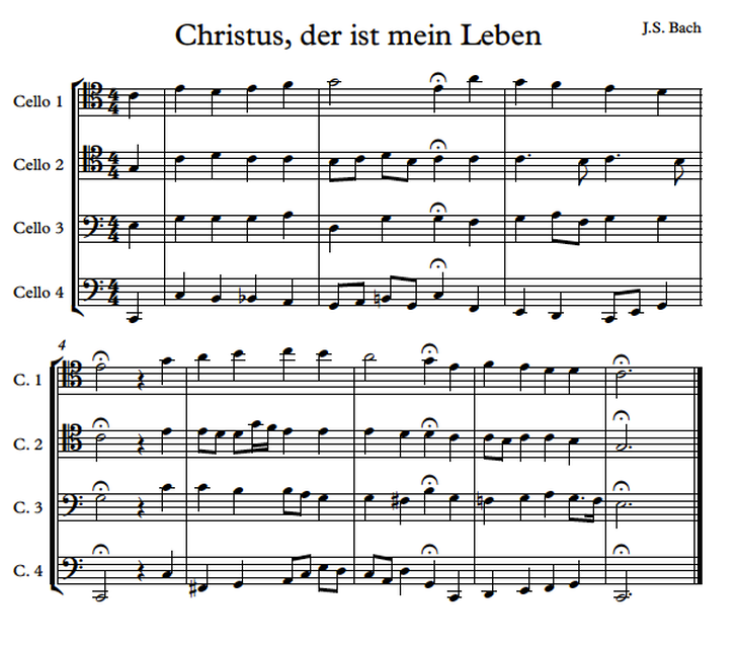 I'm also considering transposing the insanely beautiful bass aria Gebt mir mein Jesum wieder. Do you know him? Here you can hear him, at a brisk pace. Don't be alarmed.
Isn't this insane? Here's the famous violin solo in which you can hear Judas rolling pieces of silver over the ground; do you see the scales in measure 5 and 6? There they go. This part is then written one octave lower.
This is really a bit of a leap and before I transpose this aria to quintet I want to know if you like this and if I have the right cellists for this in the ensemble. I will adapt the repertoire to your wishes and possibilities. So it can range from delightfully playable to conclude with a magnum opus aria. Suggestions? Volunteers? Mail me and we'll spar over the right plan!
Do you want to musically enter the moody Passion Time? The sorrow and suffering in this baroque music, the serene and almost meditative feeling that the chorales can offer? Do you want to see how you can get that soft tone, the warmth and "dolore" in your sound? Slide on! It works best if you have already mastered the great grip and lowered first finger. Do you doubt if this is a moment for you to play together? Then just contact with me and I'll think with you.
When?
On Thursday 18 April in Amsterdam from 18:00 to 20:00
.
In Havelte on Saturday 20 April from 14.00 to 16.00
 Do you have a baroque stick? Take it with you because it's a nice challenge to make the coral style technically appropriate. I may have two baroque sticks left, if you want to buy one. This one costs € 65,00 and is a very cheap option with an excellent price-quality ratio. The costs for playing together in Amsterdam are € 35,00. I can place eight cellists there. In Havelte the contribution is € 25,00. Subscribe by emailing here. Full is full. The sheet music will be emailed to you in time.
Fine Sunday everybody!
Great regards,
Scarlett!